All New Heater Technology from EdenPURE Saving Massive Amounts of Money on Heating Bills
Hybrid Heater Heats 50% BETTER Than Other Heaters
The Popular EdenPURE GEN40 Hybrid Heater
Heats a Home BETTER Than Your Current Furnace, Boiler, Baseboard Heat AND Other Space Heaters
Uses Infrared AND Convective Heat to Slash Heating Bills
Heats Better Than a Furnace

Hybrid Heating System
Infrared AND Convective
The end of expensive, inefficient furnaces and boilers to keep warm in the winter is finally here.
EdenPURE® engineers are excited to announce a new home heating system that uses 2 forms of heat in one space heater called the EdenPURE® GEN40 Hybrid Heater.
An advanced heating engineer team has managed to combine an infrared heating system AND a convective heating system into one space heater.

These 2 technologies work together to heat a home BETTER than your current furnace, boiler, base board heat AND other space heaters.
By using 2 forms of heating technology to heat a room, the GEN40 Hybrid Heater makes you feel warmer AND reduces your heating bills.
It uses Infrared Heat AND Convective Heat to warm a room. Most space heaters only use one form of heat which isn't as efficient, leaving you cold and wasting money.

Infrared heat works by directly heating objects in a room, so your body gets heated directly, so you get bone soothing warmth.
While Convective heat works by heating the air, which THEN warms you. This gives you an even warmer feeling as ALL the air in the room you are in is warm, surrounding you in a blanket of heated air.
And since infrared and convective heat heats EVERYTHING in a room, the air AND objects, you get surrounded and directly warmed up. That's why this kind of heating technology will eventually phase out furnaces and boilers, saving you money.
Engineers have found that this new hybrid heater actually heats 50% BETTER than heaters using only one form of heat.

You see, furnaces, boilers, and base board heat ONLY use 1 form of heating to keep you and your home warm.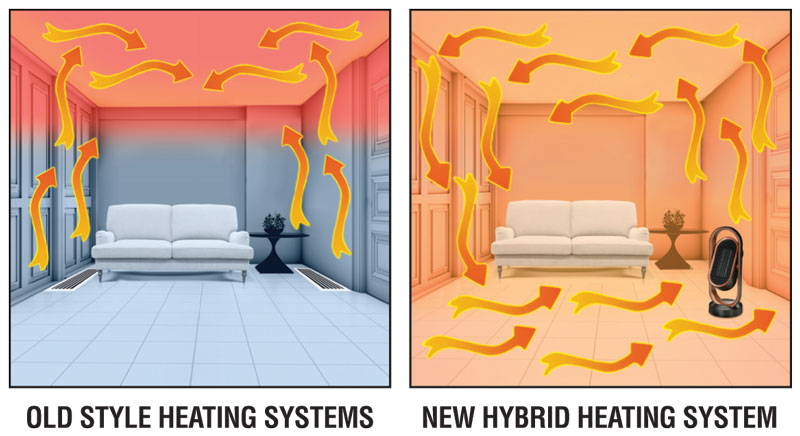 But by combining the benefits of infrared AND convective heat into the GEN40 Heater you get the best of both forms of heating technology that you can't get anywhere else.
And, you actually FEEL warmer with infrared AND convective heat than with just heat coming from a furnace.

You see, infrared heat directly heats objects in a room, so your body is directly heated. This gives you deep, bone soothing warmth. While convective heat, heats the air, surrounding you with a blanket of warm cozy, heated air!
frenzy over limited supply
But you have to be fast as people are clamoring to be first in line for this extremely limited release.

People are seeing dramatic savings on heating bills and demanding several GEN40 Hybrid Heaters. Special reader inventory is running low. Click HERE or call now for yours at 1-800-360-1070, if lines are busy keep calling.
Directional Airflow Creates Even Heating that Rapidly Fills an Entire Room

The EdenPURE GEN40 Hybrid Heater can oscillate side to side AND automatically tilts up and down to provide even heating or fan-only air circulation. This unique airflow pattern engulfs an entire room quickly in the most efficient way for rapid coverage. This gives you warmth faster than your furnace can provide and even air circulation on fan-only mode for a refreshing, cooling effect. Or you can leave this movement off for direct air flow of heat or cooling fan right on you.