EdenPURE® is going to be awarding a dealership for a territory in the area of Summit County. This dealership will be exclusive and will be the only one in the territory of Summit County.
As an EdenPURE® Dealer, you can start making money for very low investment. You will get return on your investment immediately. That is because EdenPURE® does mass direct marketing and already has customers all over the country. And new customers are added continually. Therefore you will immediately get to sell products to our existing customers and new customers. You will also be paid to deliver products to new direct marketing customers. And, in addition to this, you will also be able to put EdenPURE® products into independent hardware and appliance stores.
Other business opportunities such as franchises require over one hundred thousand dollars of investment for most and over three million for the top franchises. Many also require building construction and other major capital investments. The United Cloud Dealers only requires a one-time licensing and territory acquisition fee of only $7,500 per territory of 500,000 population.
You will be a dealer for EdenPURE®, which is a well-established company that has been in business for 20 years.
EdenPURE® has many market-tested products.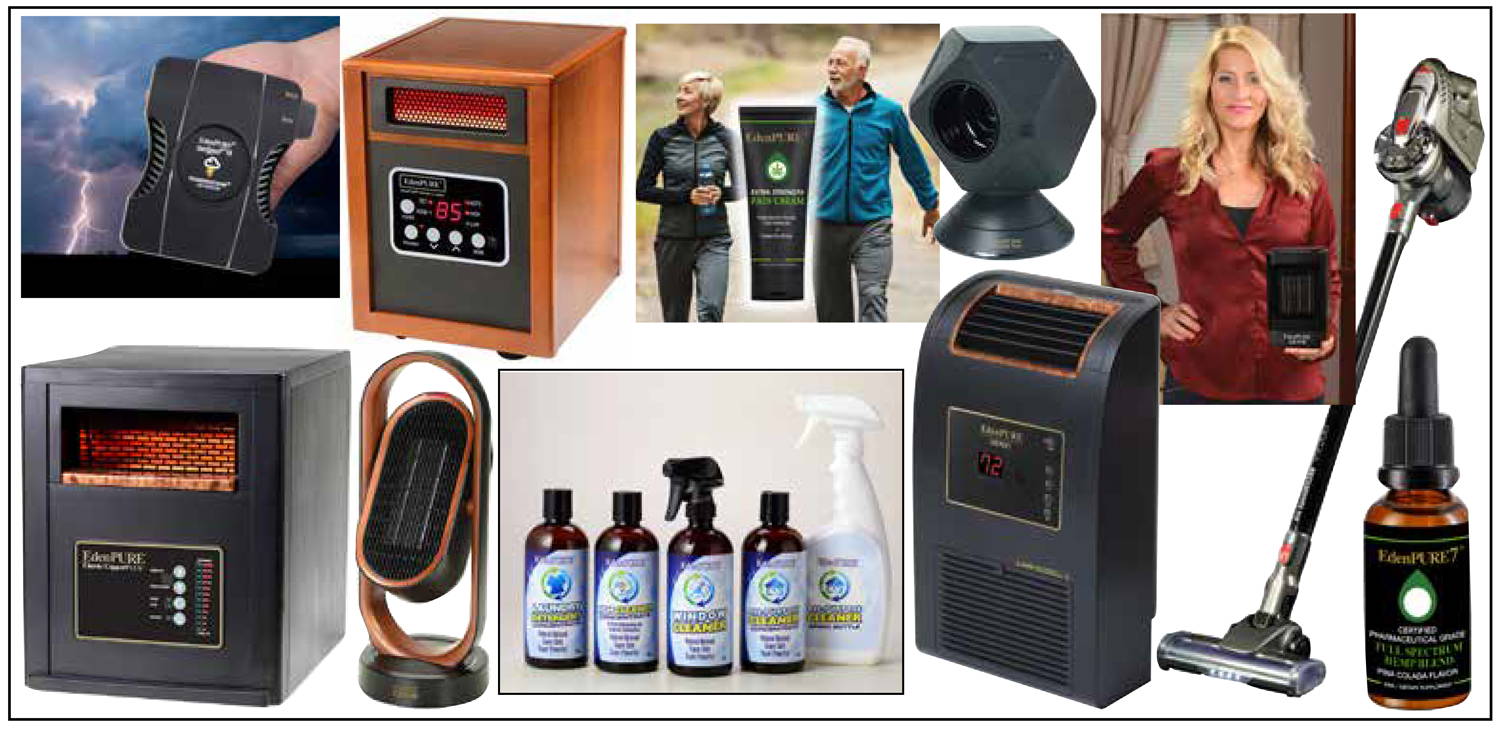 EdenPURE® produced the original infrared heater. EdenPURE has a wide range of heaters, coolers, air purifiers, cleaning appliances, CBD products, and natural household cleaners. EdenPURE is one of the most highly respected brands in the nation.
EdenPURE® has had their products in chain retail stores in the past. EdenPURE® products sold in the chain retail stores at a high rate. EdenPURE® is the most trusted brand in heaters and air purifiers.
However, the division of the company that was managing the dealerships did a poor job and EdenPURE® found that the products in the chain retail stores were not being managed well. Therefore, EdenPURE® pulled its products from retail stores.
EdenPURE® is now getting back into retail stores. But in the past they could only get into chain retail stores. It is not feasible for EdenPURE® to get into independent stores because there are so many and they are spread out. These independent stores have a major market share for all products. Therefore EdenPURE® has established EdenPURE® Dealers to service these independent stores.
EdenPURE® products are heavily advertised for direct marketing and therefore they sell quickly in hardware and appliance stores. Stores have been hungry for EdenPURE® products for the last few years now. It is well recognized that EdenPURE® products are as good as gold.
The initial product you will be selling is the EdenPURE® Thunderstorm® Air Purifier. The Thunderstorm® is one of the hottest selling products in the nation. Many real estate agents also use the Thunderstorm® to get rid of stubborn odors before they put homes on the market. So you can sell a lot of Thunderstorms to real estate agents in your territory.
The EdenPURE® Thunderstorm® Air Purifier purifies the air like nature's thunderstorm. The lightning in nature's thunderstorm produces 4 different types of super oxygen molecules. This super oxygen acts as missiles to destroy air pollution.
The EdenPURE® Thunderstorm® electronically produces micro lightning inside the unit, which produces the 4 different types of super oxygen molecules which are O3, O4, O5 and O6. This super oxygen is then propelled out of the unit and saturates the air as missiles to destroy air pollution in the air, on surfaces and deep into surfaces. Pollution can't hide.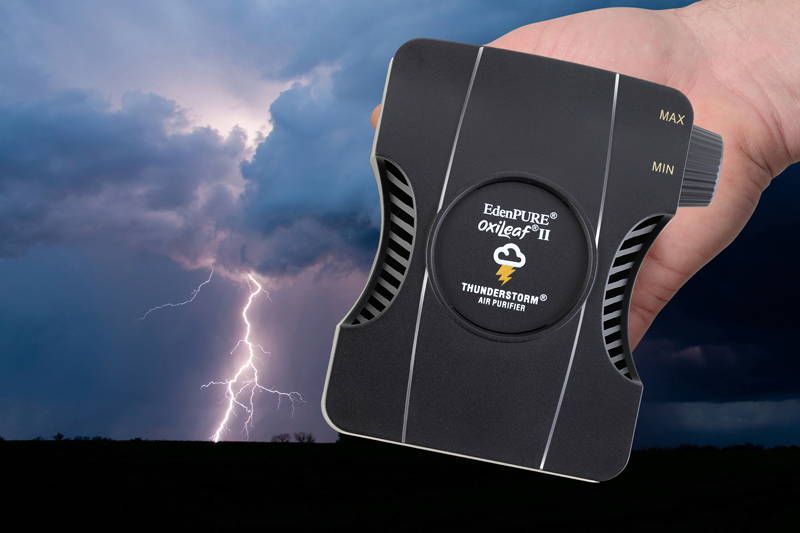 Stubborn odors are embedded deep into the surfaces of carpeting, furniture fabric, and walls. Therefore, cleaning them with chemicals does not eliminate them. The super oxygen penetrates deep into the surfaces and permanently eliminates source of the odors.
The Thunderstorm® also destroys over 100 harmful air pollutants such as allergens, formaldehyde, other toxins from rugs, furniture, cleaning products, and dangerous hydrocarbons from furnaces. The harmful pollutants cause major health problems such as extreme fatigue, muscle and joint ache, sore throat, heart damage, sexual problems, cancer, depression, ulcers, fibromyalgia, headaches, eye and skin irritation, asthma attacks, difficulty breathing, memory loss, and respiratory problems. HEPA air purifiers, which cost over $700, do not destroy odors or harmful air pollutants.
The Thunderstorm® also destroys over 99.9% of all air pollution. The super oxygen generated by the Thunderstorm® eventually reduces back to regular oxygen which is O2. This increases the oxygen in your home which gives you more energy and better health. It also provides quick allergy relief.
You will sell EdenPURE® products to independent hardware stores, appliance stores and you can also sell them to independent heating and cooling contractors. You can also sell them to individuals in your territory.
The Thunderstorm® will be used to initialize your relationship with the stores.
After the Thunderstorm® you will be provided with many other products from EdenPURE® including the famous line of EdenPURE® Infrared Heaters, EdenPURE® Air Purifiers, and the EdenPURE® Vacuum Cleaner that is far superior to Dyson®.
For starters, you will purchase initial inventory for these independent stores. You would provide the Thunderstorm® on consignment along with a countertop display. The Thunderstorm® countertop display holds 6 Thunderstorms. The retail price of the Thunderstorm® is $129. Your dealer price is $60. You will sell it to the independent stores at a wholesale price of $92. Therefore you will make a $32 profit on each Thunderstorm® sold. For the first 6 Thunderstorms you will provide them to the stores on consignment. When they sell out of the 6 Thunderstorms they will then pay you $92 for each of the Thunderstorms you gave them on consignment. After that they will pay cash on delivery or whatever other terms are suitable to you. You will make a profit of $192 for the 6 Thunderstorms that were sold.
EdenPURE® will also be providing you with existing individual customers and new customers on a continuous basis.
You will also be paid to deliver products that are sold by EdenPURE® through direct marketing. This customer will be EdenPURE's customer and also your local customer. You can sell this customer additional products when you deliver EdenPURE® products and you can continue to sell them products after. You will make much more profit selling to these customers than you will selling EdenPURE® products to stores. For example, when you sell them a Thunderstorm® at the Authorized Dealer Discount of $99 with your dealer price being only $60, you will make a $39 profit on the sale.
If you wish you will also be able to advertise EdenPURE® products on your local newspaper's website and on social media in your territory.
EdenPURE® Dealerships are being managed by United Cloud Dealers. If you are interested in becoming an exclusive EdenPURE® dealer for the territory in the area of Summit County, contact Jennifer Werner, United Cloud Dealers Manager at info@unitedclouddealers.com. She will then inform you if you are chosen to become an EdenPURE® Exclusive Dealer for the Summit County area.